Product Overview
2008-2014 WRX/STi
Precut REDOUT w/Smoked Reverse Overlays
(Only Covers Reverse/Blinker Area of Tail Lights)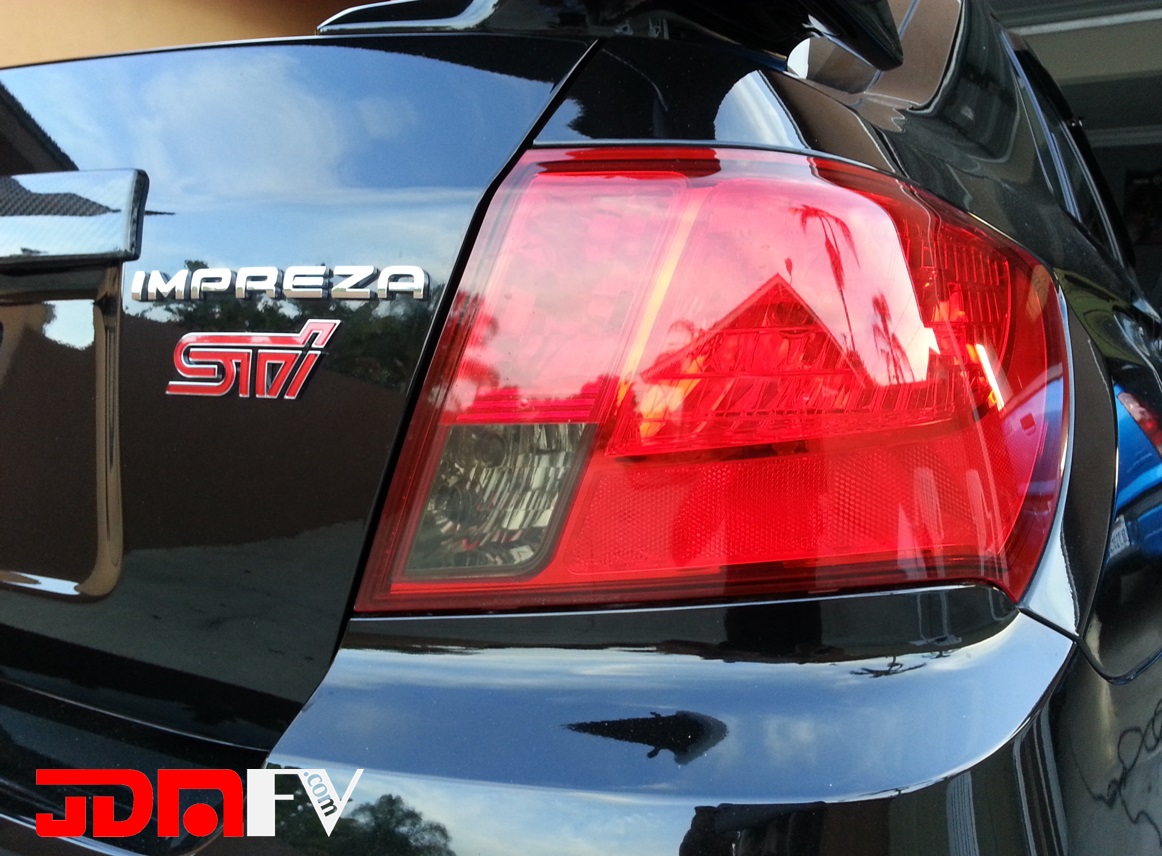 High Quality Transparent Flexible Vinyl film that adds a unique style to your vehicle's lights while adding the protection you need from harsh driving conditions
♦ Protects against scratches, fading, yellowing and rock chips
♦ Long 5-7 year outdoor durability
♦ Adds a unique style
♦ Will NOT crack, chip, yellow, or peel
♦ Removable when necessary. However, once removed the film CAN NOT be re-installed
♦ Comes with a strong adhesive backing
♦ Covers up old hazy & Cracked lights and makes them look clean
♦ Maintenance Free
♦ DIY Installation instructions included with every order
♦ Installation is easy and will take less than 15 minutes to install depending on kits
♦ Available in various colors (See color chart)
♦ Additional Colors Available upon request

Some colors may be intended for "off road use" or "Show" only
Please check with your local law enforcement for laws and regulations
Reviews
(7 reviews)
Write a Review
5

Tail Overlays

Posted by Jason on 21st Jun 2016

Came out flawless, heat gun or hair dryer is a must. Plenty of water and a few drops of soap, no issues. Quality product, install took 5 mins highly recommended 14 WRX Sedan

5

High Quality Product

Posted by Naji on 30th Mar 2015

This is a great set of overlays! I went with amber turn signal overlays and 35% light smoke reverse lamp overlays, and I couldn't be happier with the outcome. I will say that it took 8 days after I placed my order and paid for the overlays via PayPal before the overlays even shipped, but once they shipped it only took a couple days to arrive. I would say it was worth the wait. This is my second set of overlays from JDM Fanatic Vinyls (the first were the emblem overlays), and I continue to be impressed with the quality. I needed a but of blow dryer heat and some patience to apply the turn signal overlays due to the contour of the housings, but the results are gratifying. I always recommend JDMFV to others and will continue to do business with them. Just be weary of the potential time it takes to fulfill your order before shipment; if you can wait, it's well worth it!

4

looks awesome

Posted by Dave on 18th Apr 2014

looks awesome only problem should come in one piece instead of seprate pieces

5

Super easy!

Posted by Unknown on 23rd Oct 2013

Very easy to install and the quality looks very durable. I only just installed mine last night but I think they will hold up for a long time.

5

Easy!

Posted by scoobysage on 28th Jul 2013

Had the full red lamin-x on before this but had a lot of wrinkles once it got hot out. Took them off got these on much easier 15 minute install rather than an hour for the full tail light wrap which was a faded red after 7 months. These look awesome and even better than full red! Easy Install just keep your fingers wet with soapy water as well as both surfaces and use a heatgun and something to push the water and air out.

5

dummy proff

Posted by Unknown on 9th Jul 2013

easy to install dummy proff...looks great holding on strong! perfect fit

5

Couldn't be easier

Posted by CH on 5th Apr 2013

This item is exactly as advertised! Install was a breeze and I really like the look with the 25% reverse. I have had them on for 3 days and collected multiple approvals. One suggestion on the install. Just take your time :) Thanks for a ready to go product!