Product Overview
2008-2014 WRX/STI
Precut Emblem Overlays

One Pair of precut Carbon Fiber Vinyl Emblem Overlays with your choice of Colored Stars for your Emblem of the most technologically advanced Vehicle wrap on the market!
Easy peel and stick with air release technology
About Our Vinyls:
Carbon Fiber Vinyl:
High Quality Premium Cast Vehicle Wrap with incredibel 5 year outdoor durability.

Vinyl is 0.006 inches (6 mils) thick

Will not fade, crack, peel, or shrink

Air Release technology for easy, clean & bubble free installation

Carwash safe
Gloss/Matte Vinyl:
Our vinyls are high quality PREMIUM CAST Vehicle Wrap with 5-10 Year outdoor durability

Vinyl is 0.003 inches (3 mils) thick

will not fade, crack, peel, or shrink

Air release technology for easy, clean & bubble free installation

Carwash safe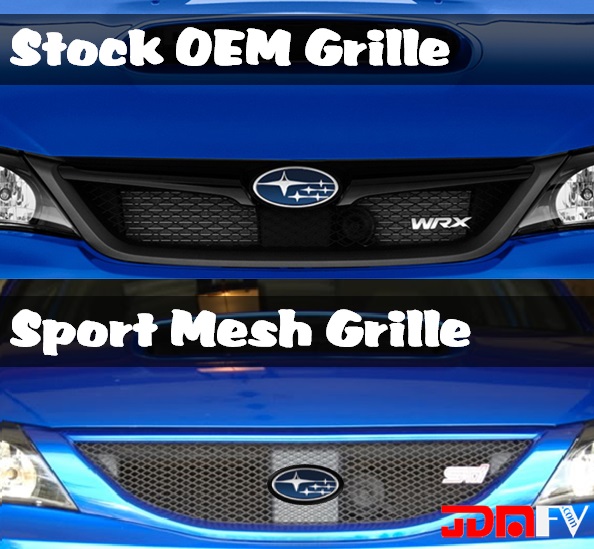 Add a quick and easy custom perosnalized look to your emblem
Reviews
(111 reviews)
Write a Review
4

2011 wrx

Posted by James on 28th Jul 2020

These are great overlays, front and rear fit perfectly

5

High quality

Posted by Isaac on 11th Jul 2020

The international shipping was fast and affordable and the product is very high quality 3M vinyl. It sticks with no problems and a bit of heat helps it mould around the curved edges with no problems and no creases. Very happy customer and I have recommended friends to this site already!

5

08-14 Sti hatchback emblem overlays

Posted by Andrea on 23rd Jun 2020

Was very excited to receive this product. Installation was easy and straight forward.

5

Need a better preview of color options.

Posted by Unknown on 10th Jul 2019

I realize that there are, quite literally, 18,819 possible logo/color combinations as currently listed on the website, and that's excluding the additional options of hatchback/sedan and OEM/Sport grill style, but there simply aren't enough example pictures for people to make a confident purchase. How am I supposed to know if I like "Gloss Intense Blue" any better than "Gloss Metallic Sky Blue", "Flat/Matte Metallic Blue", "World Rally Blue", or "Blue Mirror Chrome"? I mean seriously. I'm not spending $18 to try out a new color that I may not like. Could you guys maybe come up with some sort of configuration tool that allows you to get digital previews of your logo design / logo color / background color options? It shouldn't be too hard to do, and would be really helpful. Thanks. Reply: We do offer a color chart on the website for most of the available colors https://www.jdmfv.com/color-chart/ If you click on any of the images the photo will blow up to your computer screen size

4

Careful with the install; overall good product.

Posted by Another Guy Named Mike on 10th Jul 2019

I've had some competitor's decals on for a while and they did not hold up because the star portion of the emblem is actually a separate layer of vinyl sitting on top of the background, and driving and exposure to the elements eventually peeled the very thin edges of the stars off and it looked terrible. I'm not sure if all versions are like this, but I got the glossy star emblem from JDMFV, and the star portion is actually layered underneath the background, which seems a smarter design to me and far more resistant to wear and tear. Hopefully these hold up better.

5

Great!

Posted by tootsubie on 22nd Sep 2018

These wrap ons are durable and easy to install. Took me about 15 mins with simple easy steps. Gorgeous looking unlike the Ebay items. Ordered another one for back up.

4

great fitting overlays!

Posted by Unknown on 14th Jul 2018

Overlays fit pretty close to perfect. Love the look of them too. Gave 4 stars as I have only had product on car for 2 weeks and can't comment on durability. So far, no issues.

5

Amazing quality

Posted by WRX_Knight on 17th Oct 2017

Vinyls are amazing quality and extremely easy to heat up and put on. 5 out of 5 stars from me.

5

Carbon Fiber Overlays

Posted by 11 STi on 25th May 2017

Fit for both front and rear was great. Small but noticeable upgrade. Very good quality product. Matched my hood wrap perfectly and easy to put on.